A MOMENT WITH: Paul Haymes from The Baker Boys Band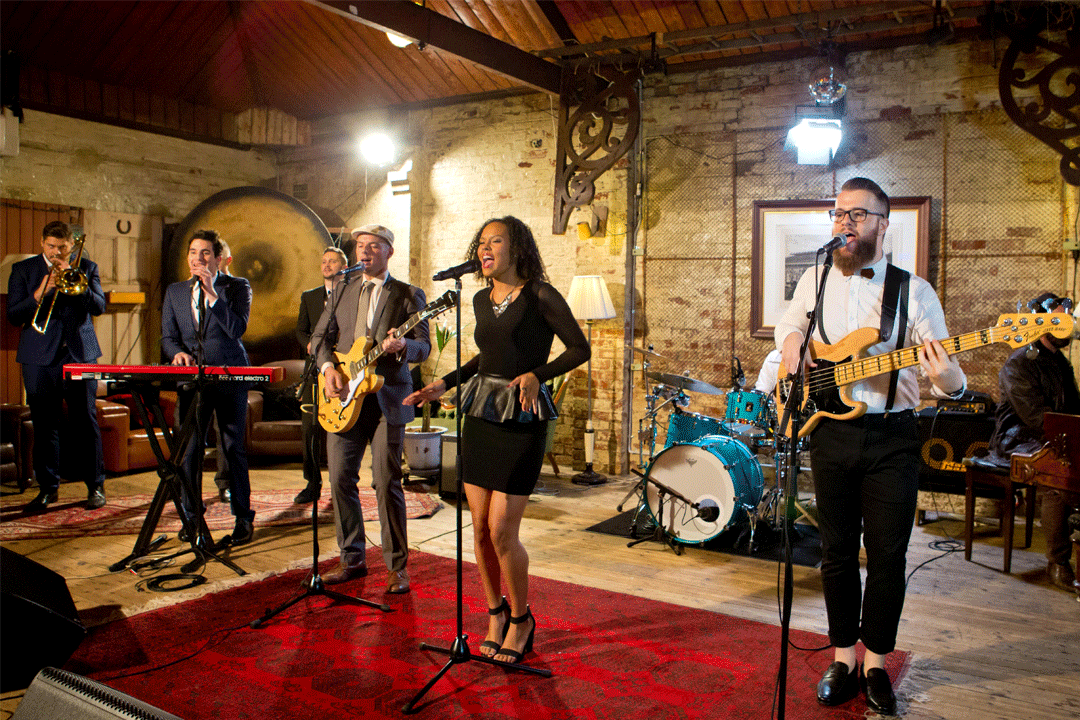 Tell us a bit about what you do; why you love your job?
Variety is the spice of life, and the music we play changes with every wedding. Sharing the stage with band mates and feeding off the audience energy is equally rewarding and addictive.
The Baker Boys Band's musicians are engaged in various original side projects, while also keeping up with the latest tunes in the covers scene. The diversity and musicianship across our collective is quite inspirational. It's no secret that a career in music is tough, but the overwhelming benefits are the joy of performance, creativity and the journey of mastering your instrument.
What are the advantages of having a customisable band?
The Baker Boys Band offers a fully customisable wedding band configuration depending on the client's venue size, budget or particular sound. We can cater to any venue, whether it is on the eighty-ninth floor of the Eureka Tower, on the back of Bedford truck in country Victoria, or in an elegant hall.
We can adjust our band configuration and specialised equipment to tackle Melbourne wedding venues with severe sound restrictions, or we're also able to add touring grade sound systems for big events at the MCG or Marvel Stadium.
Our regular showcase presents the opportunity for couples to road-test our various ensemble sizes that offer a wide variety of performance styles and genres. If you're keen to book a live wedding band, I'd highly recommend checking them out in their natural habitat.
The clear advantage to booking the The Baker Boys Band is our unlimited variety and personalised support throughout the planning process. Our producers will guide couples through their musical preferences, assist with planning the perfect blend of fabulous music, food and formalities, plus include valuable reminders and advice via the client's personalised Band Planner portal.
What songs are you getting a lot of requests to play for ceremonies and receptions now?
Our classic string quartet performs a sublime version of 'Feels Like Home' by Chantal Kreviazuk, which evokes a swell of emotion in anticipation of the big reveal at ceremonies.
Have you played any weddings that have been especially fun or memorable? Can you tell us a bit about them?
Every wedding we play is uniquely different – ranging from the beach or forest, to the city or a vineyard.
We once witnessed a couple arrive back from post-ceremony photos on camels!  That was pretty cool!
What advice would you give to couples as they plan their wedding and think about the kind of atmosphere they want for their big day?
My advice to couples is to go with the flow and trust the advice from suppliers that work in the wedding industry. 
Keep video presentations, games or trending features to a minimum, as with each added layer brings potential delays and less time to kick your shoes off and party. The Baker Boys Band's focus is to ensure a memorable night of music is delivered.
Do you have any exciting plans for the future of the Baker Boys Band?
There is always a lot happening at The Baker Boys Band HQ with regular showcases and busy planning for the season ahead. The band have partnered with the International Musicians League in America (IML) that's dedicated to the enrichment and betterment of the music industry as a whole.
How does playing a wedding differ to other kinds of shows you may have?
Wedding bookings are quite specialised and require a well-rounded set of performance skills. The packages are amazing value for money as most corporate or festival events require less overall performance time.
Initially, The Baker Boys Band was one of the first wedding bands to offer four 45min sets in succession in our unique five-hour package. Most people choose to have one chilled-out set early in the night as guests arrive, and then three dance sets from about 9pm onwards. We also provide a complimentary basic iPod service for the times when the band is not playing. 
What are we going to see from you at this year's expo?
We're super excited about the Melbourne Wedding & Bride Spring Bridal Expo and looking forward to speaking with everyone about their special day. Our producers will be handing out free demo CD's and invites to our regular showcases. Be sure to drop by and say hi!