A MOMENT WITH: Bridesmaids Dressing Room
Bridal Fashion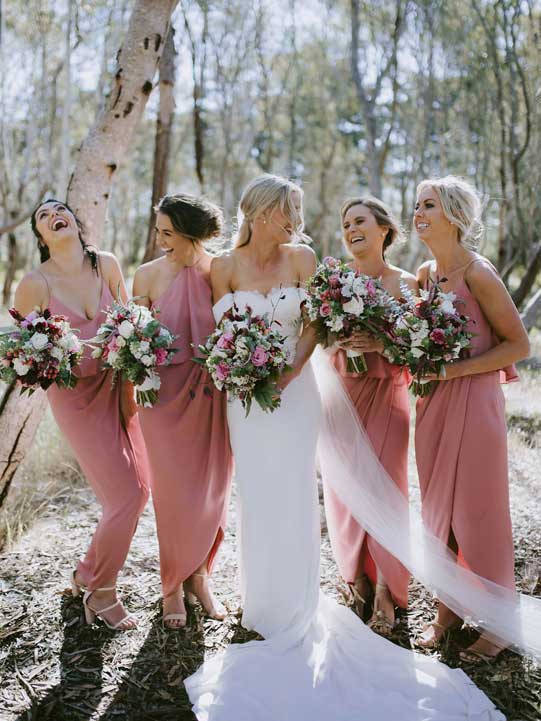 How did you decide to get involved in bridesmaids' fashion?
After having my second baby and ditching my corporate accounting career, I followed my passion for fashion! My first business offered a bespoke design service, where I was quickly finding that more and more women were asking to have bridesmaid dresses custom made. I then introduced a small rack of made-to-order dresses from an American brand, which took off. After that, I decided to offer made-to-order bridesmaid dresses in Melbourne, rebranding in 2012 to Bridesmaids Dressing Room.
We now offer bridesmaid dresses from a variety of local and international designers including Jadore, Les Demoiselle, Shona Joy, Goddess By Nature, Mori Lee, Watters and more! 
Tell us a bit about yourself, what do you like to do in your spare time?
I love, love, love the beach – it is my happy place! Anytime I can escape the craziness of the bridal industry, I find delight being near the water, it brings me peace and joy. 
What is your favourite part about your work?
We have so much fun 'playing dress-ups' in the showroom with the girls. But my favourite part is being a stylist, where I guide my clients on what styles will best compliment their body shape and their personal style preferences. I love seeing their faces glowing when they find the perfect dresses!
What do you do to prepare for your day ahead?
No two days are ever the same in the bridal industry. We have bridal party consultations, orders to process, deliveries to unpack, dresses to check and sort, website updates with new designs, marketing activities and more!  Never a dull moment, that's for sure!
What are you excited about for your business this year, and for the future?
This year we are excited about introducing some new brands to our ever-growing collection of designer bridesmaid dresses. We have also recently moved to a new bigger and better showroom in Keilor East, and we are eager to expand our team to help even more brides find the perfect bridesmaid dresses!
What styles do you think are most on-trend now?
The mix-n-match combo – with dresses that have the same bottom design but different top – is certainly in vogue at the moment. Also extremely popular in Melbourne is our Shona Joy line, which gives bridesmaids the ability to choose a style that best suits their body shape, while the bride gets to choose the colour. For more formal weddings, we are finding the tight-fitted, mermaid-style dresses are also very popular for a high-glam look!  
What are you excited about for the expo?
We are excited to show off our new brands and colour ranges to the brides and bridesmaids that attend the expo this year!
Every expo attracts a different mix of brides and bridesmaids and we always look forward to meeting the bridal parties and finding out what they are looking for when it comes to bridesmaids' designs.
We also enjoy meeting other new wedding suppliers in the industry and mingling with like-minded entrepreneurs.  It's a great way to see what new trends are being introduced into the wedding space – all in the one building!
 What will we see from you at the expo this year?
We will be displaying an amazing array of bridesmaid dresses and showcasing our latest colours and designs to inspire the women in Melbourne. The bridesmaids will be able to chat with our team of stylists and explore all of our options. Bridal parties will also be able to book appointments on the spot to come to see our showroom – agreeing on a time that suits everyone while they are all together!