A MOMENT WITH: Jermaine Clark
Celebrant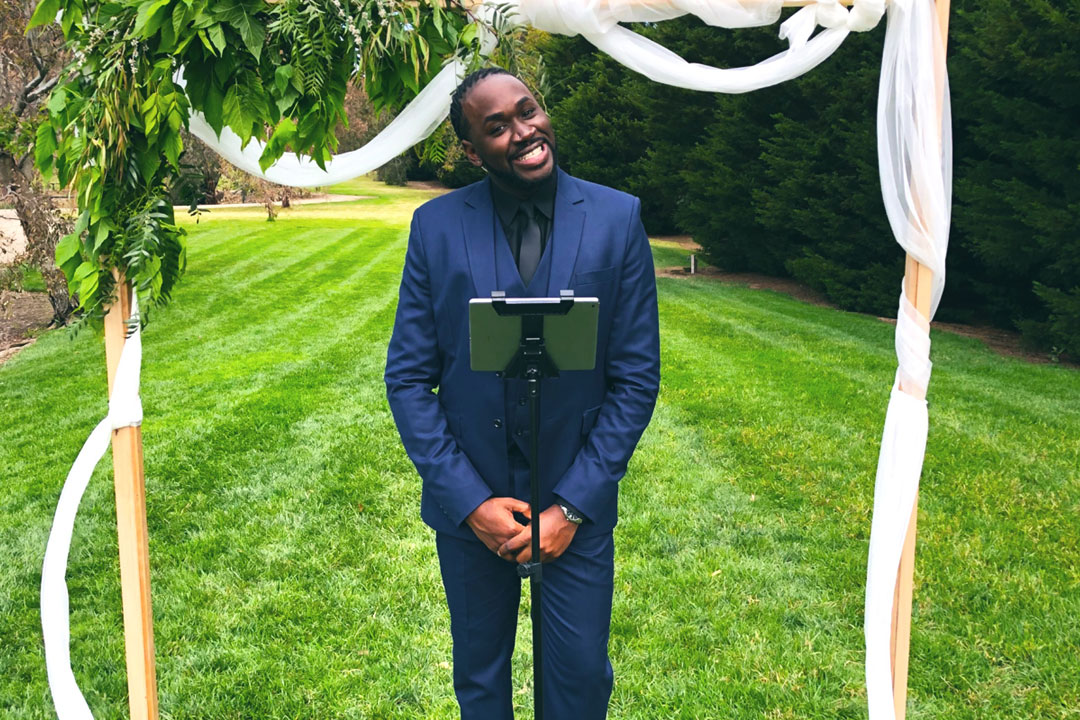 How did you become a celebrant?
My passion developed as a child, as I grew up in a family who were all leaders in a thriving church, which exposed me to many wedding planning sessions and ceremonies. When I arrived in Australia in August 2015, I realised that I could do what I love without being attached to a religious organisation, so I excitedly thought, "where do I sign?".
I completed my celebrancy course at Gordon TAFE in Geelong, and I become registered with the Attorney General, which authorised me to perform marriage ceremonies in Australia.
What is your favourite part about your work?
My favourite part of my job is getting to meet new couples and hearing their love story. Being a part of a day that will form memories in the hearts of my couples forever is also highly rewarding.
What are you excited about for your business this year, and for the future?
I am excited that I have been professional yet personable, and I am going to keep it this way. I am getting more and more exposure recently, that's causing more couples to book with me.
What part of a wedding do you find to be the most beautiful?
I love watching the couple say their vows as it's usually during this moment that I witness a range of raw unrehearsed emotions.
What is your advice for couples getting married?
My advice is to start the wedding planning EARLY and ensure you have a clear understanding of what your agreed budget is. Take things slowly enough so that you can enjoy the process and the fun of planning. Check out the wedding suppliers you are interested in, look at their webpage, social media and reviews. Contact your chosen wedding suppliers early enough so you don't end up having to settle for a supplier you wouldn't have picked, had your preferred supplier been available.
What are you excited about for the expo?
I am excited to meet and speak to all the new couples that will attend.  While they may have had the chance to look at my work on social media, it's still an added touch when you can see who you'll be sharing one of the happiest days of your life with in person.
I am also excited that some of the best wedding suppliers in the industry will be at the expo, and all our couples will have an opportunity to meet them and ask any burning questions.
What do you love about the Melbourne Wedding & Bride Bridal Expo?
I love that the Melbourne Wedding & Bride Spring Bridal Expo is one of the biggest in Melbourne and has a lot of attendees each year. All the suppliers are together under one roof, which makes it easier and more accessible for couples to meet as many suppliers as possible before making their final choice.
The day is also about networking and seeing your industry buddies that I'd otherwise be too busy to see!